Milwaukee Car Accident Attorney
Auto Accident Lawyer in Milwaukee, WI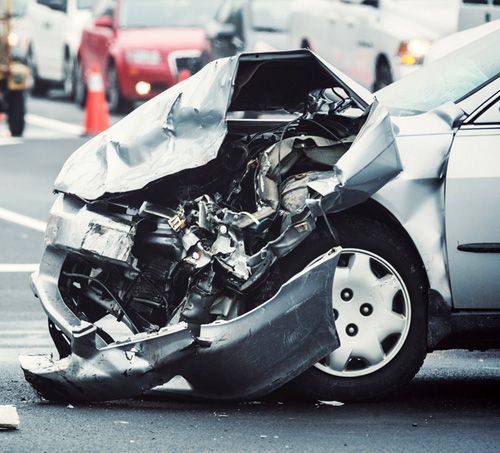 Driving in a vehicle is a common practice for most Americans yet auto accidents are one of the primary causes of personal injury and wrongful death in our country. There are around 3 million injuries and over 40,000 fatalities from vehicle-related accidents nationwide. Although wearing a seat belt reduces the risk of injury and fatality by about 45%, and the fact that vehicle production has been enhancing motor vehicle with a slew of new safety features meant to save more lives and prevent more injury, accidents still happen much more frequently than some think.
When a person experiences an auto accident, most likely an injury is attached to it. The victim often needs to file a personal injury claim or lawsuit and will need the best possible representation to do so. The attorneys at Welcenbach Law Offices have the necessary experience to help individuals fight for the compensation they rightfully deserve against the negligent party. Our Milwaukee car accident lawyers in Wisconsin know what it takes to help those who have suffered an auto accident and to help get them back on their feet again, living and loving life.
Caution Towards Insurance Companies
Insurance companies are looking out for their bottom line. They will try to settle your claim for as little as possible. After serious car accidents, insurance company adjusters will usually try to contact you immediately. Do not agree to anything until you speak with a lawyer. Hire an experienced Milwaukee car accident attorney at Welcenbach Law Offices, S.C, in Milwaukee, Wisconsin. We are your best advocate and assistant when it comes to dealing with the insurance company.
Our lawyers can let you know how much you can expect to recover based on our experience handling other car accidents. Unlike insurance companies, our auto accident lawyers will see that you get all you deserve, and we do not get any fees until you recover. Contact us any time to discuss your car accident and the injuries you sustained.
Causes of Car Accidents in Wisconsin
In Wisconsin, the most common causes of car accidents range from distracted driving to failure to control one's speed. After reviewing the numerous studies done and completed by government sources, the State of Wisconsin Department of Transportation determined the leading causes of auto accidents in the state of Wisconsin. These results were as follows:
Deer Accidents
Alcohol-Related
Speeding
Reckless behavior such as speeding or tailgating can be incredibly dangerous. You not only put yourself at risk but endanger the lives of those motorists around you. In the State of Wisconsin, driving under the influence is termed "operating while intoxicated", OWL. It is crucial that you know and understand your rights when involved in an OWL accident. A Milwaukee Auto Accident Attorney has years of experience assisting clients in all areas of car crashes.
Car Accident Statistics
Of the 52 states, Wisconsin ranks #29 as the most dangerous state for car accidents, with an average fatality rate of 12.15 and a percentage of fatalities related to alcohol of 42.11 %. Because of its brutal winters, Wisconsin ranks as the 6th deadliest states for wintertime car accidents. Drivers are given simple guidelines to ensure their safety from the DOT during the winter months. Some include having a fully charged phone, checking weather conditions, driving slowly and using low beams to help other drivers clearly see you.
Claims For Damages From Car Accidents
As an injured victim, medical expenses are not the only item to bring into a claim when filing. Because the extent of a victim's injuries could have long term effects on their finances and well-being for years to come, an attorney and the victim should discuss the claims together for the damages caused. Here are a few projected expenses to consider:
Rehabilitation
Lost Wages
Medical Care
Residual Injuries
Nerve Damage
Mental Stress
Pain and Suffering
When you experience a severe accident, the expenses alone can be overwhelming as they pile up, reaching a point of intense personal frustration. The hospital bills alone can be astronomical. Although health coverage is an important part of auto accidents, that should not stop you from being able to file a claim in the case of a severe accident. The negligent party should be held fully responsible for their actions.
Despite being a careful and cautious driver, you cannot assure that all others behind the wheel will be following the same good practice that you are. We know that you should not be held responsible for the damages caused by the ignorance or mistakes of other drivers when involved in a car crash, it may not be your fault. In a case such as this, it is mandatory that our car accident attorneys help you file a car accident claim to protect yourself. There are so many injuries, frustrations, and pains that may come to a head as a result of a car accident. Above all, your life should be of the uttermost importance. By choosing us, you choose to have your life back.
Repercussions of a Car Accident
It can take months or years after a car accident for the victim and families to get their lives back together. Auto accidents can often lead to life-threatening or debilitating injuries including those listed below. With that in mind, evaluation for the following injuries that one is prone to in a car crash need to be examined.
Brain injury or closed head injury: Includes concussions, contusions, diffuse axonal injuries, and penetration injuries.
Herniated disc: Experience of nerve damage and pain or numbness. Most occur in the lower back (lumbar spine) but can occur in the neck also (cervical spine).
Spinal Cord Injury: Often causes permanent changes in strength, sensation and other body functions below the site of injury.
Back injury: Includes damage to the spinal cord or herniated disc.
Neck injury: Most common is whiplash which can cause serious neck muscle and ligament damage.
Scarring: Any place on the body.
Other serious injuries: Which may include emotional distress, ligament damage, broken bones or post-traumatic stress disorder.
Not only can these injuries be long-lasting, but can affect your daily life as well as your work life. You should not be forced to suffer the consequences of medical bills, loss of future wages and lost earnings. The accountability is in the hands of the responsible party and their negligent actions.
Why Choose a Welcenbach Car Accident Lawyer?
Our Milwaukee Auto Accident Lawyers work tirelessly for you and we charge no attorney fees until you receive your settlement. We have worked over 3 decades to provide our clients with the personal attention they deserve and use our history of trial success to help you recover the compensation you deserve. With a strong background in providing businesses and individuals with premium legal services, your case will be handled by an in-house attorney personally who will collaborate with our other lawyers to maximize your results.
The Department of Transportation takes extreme measures to curb the number of speeding and alcohol-related accidents since they are a major cause of injury and fatality in the state. However, even with these measures in place, accidents occur and can affect your physical well-being having lasting repercussions on accident victims and their families. Choosing a Milwaukee car accident attorney to represent you is imperative to your ongoing future.
Call Today To Seek Justice From a Milwaukee Car Accident Lawyer
We are here to help those who have been injured on large highways and roads such as Hwy. 45, 894, I-43, and I-94. Accidents of any kind can result in large medical bills, lost wages, pain and suffering, and other expenses. Our car accident lawyers have the trial experience to help our clients get all they need and deserve.
After an auto or motorcycle accident, you and your family need the advice of someone you can trust. If you would like a free consultation with one of our lawyers, contact us any time. There is no obligation. Call our Milwaukee car accident attorney at (414) 774-7330. We will either help you right away or get back to you quickly. Evening and weekend appointments are available.