Milwaukee Slip and Fall Accident Attorney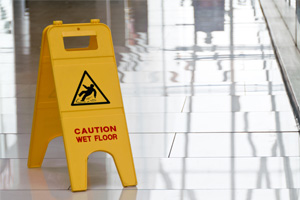 Hurt after a slip and fall accident? An injury of any kind can stop you in your tracks. Not only are you often in pain after being injured, but you also have to deal with the mounting medical bills, time away from work, and possibly even disability due to your injury. If your fall accident was on someone else's property, you may be entitled to compensation. This is particularly the case if the property's owner acted negligently in a way that compromised the safety of an indoor or outdoor surface. For example, a floor could become slippery due to a leaky roof or a cooking oil spill. You don't have to deal with the injustice alone. Contact a Milwaukee slip and fall accident attorney from Welcenbach Law Offices to ensure your personal injury case is handled properly and you get the settlement you deserve for your injuries.
Common Causes of Milwaukee Slip and Fall Accidents
Generally, property owners must keep their structures and property safe and reasonably maintained to avoid slip and fall accidents. When they fail to do so and you slip, trip, or fall as a result, they could be held liable for your injuries.
Some common causes of injuries in premise liability claims include:
Wet walking surface
Icy or snow-covered pavement
Debris obstructing a walking path
Insufficient lighting
Damage to floor or pavement causing uneven walking surface
Carpeting warped or unsecured
Hand railings absent or in disrepair
Higher Risk of Outdoor Slip and Fall Accidents
Milwaukee gets considerable amounts of rain and snow throughout the winter season, creating a dangerous condition for walking. That's why many slip and fall cases are associated with outdoor injuries occurring near building entrances. You might have justification for legal action if you're injured in a slip and fall accident and the property owner kept dangerous premises like a poorly designed walkway or repeated snow and ice coverings. Drainage problems could also justify a lawsuit, especially if they create ice or slippery conditions on walking surfaces.
Possible Slip and Fall Injuries
The possibility of serious injuries is a concern when it comes to slip and fall accidents. Particularly in cases where the injured party is elderly or disabled, the impact of hitting the ground could even lead to catastrophic injuries.
Some significant injuries that could result from fall accidents include:
Cuts and lacerations
Dislocation or other shoulder injuries
Broken bone
Neck injury
Back injury
Torn ligaments
Traumatic brain injury
Wrongful death
The property owners and even property managers responsible for the accident could be required to pay financial compensation to the injured party in the form of medical expenses, lost income, pain and suffering, and other damages.
How Could a Milwaukee Slip and Fall Attorney Help Me?
Proving liability in a slip and fall case isn't always easy. A Milwaukee personal injury attorney can help determine if someone is legally responsible for your slip and fall injury based on Wisconsin personal injury law. Depending on the circumstances, you may need to initiate legal action against a property owner, plowing contractor, or even a commercial tenant. Personal injury attorneys will also help you gather the appropriate evidence to prove liability, identify laws the defendant violated, and decide how much compensation to demand.
Choosing the Right Attorney for Slip and Fall Accidents
Once you're ready to explore your legal options, you won't want to choose just any attorney out of the many Milwaukee slip and fall lawyers available. Be sure to select a qualified premises liability lawyer to represent you in your slip and fall injury case. You may benefit from comparing client reviews and finding out how many years different Milwaukee attorneys have been licensed. Also, do some research and look for news reports on specific lawyers. You might learn about license suspensions or other negative incidents. On the other hand, you could discover a history of successful slip and fall cases. Falling on pavement or a floor may cause lasting injuries. It's vital to find an personal injury attorney who can get you fair compensation and ensure that you're fully reimbursed for medical bills, lost wages and related expenses.
Contact the experienced team at Welcenbach Injury Law, a Wisconsin law firm, to speak with an experienced slip and fall lawyer today.
FAQ: Milwaukee Slip and Fall Injuries
How long do I have to file a slip and fall claim in Wisconsin?
The statute of limitations for personal injury lawsuits in Wisconsin is three years. This means that once three years have passed since your fall, you won't legally be able to file a claim or seek compensation for damages.
Should I go to the doctor after a slip and fall accident?
The first thing you should do after being injured—before filing a slip and fall claim—is seek medical attention. Not only do you need to ensure your health is addressed after a fall, but you'll want to know how much the injury has cost you before accepting a fair settlement offer.
Who can be held liable for slip and fall accidents?
When slip and falls occur, there are a few different parties that could be held liable for the injuries. While the property owners of commercial buildings or even a private residence are required to use reasonable care in preventing unsafe conditions, it's possible that a property manager or maintenance service could be liable. Proving fault in a premises liability claim is never easy, but an experienced lawyer can review your case and discuss your legal rights to compensation – and who you should seek it from.