Milwaukee Uber Accident Attorneys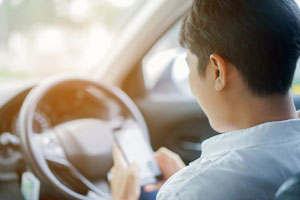 There is little to no doubt that ridesharing companies like Uber have changed the way many Americans get around, especially those in cities. They certainly make getting around town more convenient, which is why millions of people every day use Uber and other ridesharing companies to travel to a specific destination. And thankfully, most passengers get to their destination without a problem. That said, Uber and their drivers have also caused many accidents, and many injuries have resulted as a consequence.
The executives at Uber are well aware that accidents will happen, which is why the company carries extremely large insurance policies, so they can pay accident claims, to satisfy claims made by passengers, pedestrians, bicyclists, other drivers, and many others have received accident settlements from Uber to pay for medical care and other damages caused by a negligent Uber driver. If you have been injured by an Uber driver, you can file a lawsuit, but getting compensation is never easy. You will have to deal with Uber, which is a large company worth billions of dollars, and they carry insurance by billion-dollar insurance companies, so obviously, they will all work together to try not to pay you anything because doing so will raise their insurance premiums, thus impacting their bottom line. Therefore, like most large companies in Milwaukee, they and their insurance carriers will do everything possible to avoid paying.
Injured in an Uber Accident? Contact a Milwaukee Uber accident attorney from Welcenbach Offices.
How Do You Know Your Accident Is Covered?
Uber carries $1 million insurance policies, with the coverage levels depending on the circumstances surrounding the accident, such as whether there was a passenger in the car at the time of the accident. Collision and comprehension coverage are available only to drivers who have these coverages on their own personal policies. Likewise, the driver's injuries are only covered if the other driver is at fault. Because they try to protect ridesharing companies to a greater degree than drivers, insurers for both companies have designated several "periods" when it comes to ridesharing. These "periods" are as follows:
Period 1: the driver is cruising around with the ridesharing app open, but they have not yet been matched with a rider.
Period 2: The ridesharing company has matched the driver with a rider and the driver is en route to pick up the passenger.
Period 3: The passenger is in the car until such time as the passenger has been dropped off at their destination.
Uber drivers' liability is equally as complicated since Uber drivers also carry their own personal insurance, which often excludes accidents that occur on the job.
If the accident happens during Periods 1 or 2, Uber's insurance will pick up the slack only if the Uber driver's personal auto insurance policy denies coverage. The bottom line is, if you find yourself in an accident with an Uber driver, you may find yourself having to face more than one insurance adjuster attempting to deny coverage.
Uber provides its drivers with additional liability coverage of up to $50,000 for injury and $25,000 in property damage coverage as part of its benefits package. There is a catch, however; the Uber driver must request it, and it only applies if the driver's personal insurance fails to cover all damages.
If the Uber driver is carrying a ridesharing passenger as part of their ride-sharing service or they are en route to pick up a passenger, Uber's $1 million liability insurance policy will cover both the driver and the passenger.
What to Do When You're in an Accident With an Uber Driver
There are specific steps you can take to make it easier to hold Uber responsible and get the compensation you deserve under the law. Here's what everyone should do after any car accident involving any ridesharing company.
Seek medical attention immediately – Following an accident involving Uber or Uber, you should see a doctor immediately and undergo a thorough medical evaluation. You should do this even if a paramedic at the crash scene looked you over, or even if you think you feel fine. Never make the mistake of assuming your injuries aren't serious enough to see a doctor. Quite often, the adrenaline running through your body will mute your pain, so some injuries may not become apparent for a few days. You need an official medical record that describes your injuries in the aftermath of the accident in detail.
Never accept a quick settlement – One of the most common methods insurance companies use to try to limit their payouts is by making a quick settlement offer to an accident victim, often before they have a chance to see either a doctor or an attorney. If an insurance adjuster is willing to part with a couple of thousand dollars, that's not to your benefit, but theirs. The problem is, when you accept that settlement, it becomes virtually impossible to recover any additional
compensation. If you accept money that doesn't cover all your expenses and losses, you may be stuck with that decision.
Stay off social media – If you have been injured in an accident involving Uber, avoid the temptation to post any information anywhere online, even if it's not
related to the accident. Those posts are public, and it is impossible to know which social media posts insurance companies can and will use against you. Even the simplest of posts can be twisted by the insurance company to contradict a claim you're making in your accident case. Social media can never really help your case, but it can cause damage, so post nothing.
Contact lawyer as soon as possible – If you have been injured in an accident involving an Uber driver, get an experienced Uber accident lawyer immediately. You could try to fight a claim on your own by going through Uber, or even the driver's personal insurance company. However, it's a good idea to keep in mind
that everyone you will be up against will have billions of dollars, an army of lawyers and plenty of incentive to pay you as little as possible.
Contact Our Milwaukee Uber Accident Attorney Today!
Dealing with Uber and insurance companies can be brutal and demoralizing, and there is no point to it. The experienced attorneys at Welcenbach Law Offices are familiar with the intricacies involved in representing victims of accidents involving ridesharing companies like Uber and they will fight to get the compensation you deserve. Best of all, our attorneys will not take any fee until your case has been won. If you have been injured by an Uber driver, contact us for a free consultation so you can discuss your case with a qualified member of our team who can offer advice and determine whether you have a case.