If your accident involves a semi-truck, you need an experienced truck accident attorney.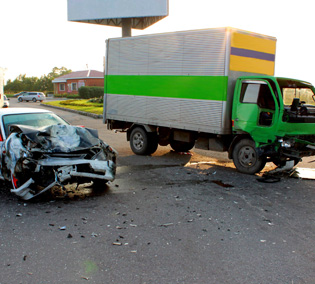 If you are involved in a truck accident, you may have questions about what to do.
The first thing you should do is make sure that you and your passengers are okay and determine whether you should stay in the vehicle or whether you need to exit the vehicle due to a potential fire.
If you do need to exit the vehicle, make sure you're able to exit the vehicle safely without placing yourself in a lane of traffic.
Next, you should contact the police to let them know there has been an accident and whether or not anyone needs medical assistance. If possible, leave your car where it is. Otherwise, move it off of the road way to avoid being struck again.
If you can safely do so, you need to take pictures of your vehicle and the truck that hit you.
Do not say anything about fault to the other driver. The police will take your statement and the other driver's statement.  A judge or jury will determine who is at fault.
After you have given your statement to the police, you should determine whether you need medical assistance. Often after an accident, you will have adrenaline running through your body and may not feel the effects of an injury. Many people refuse treatment at the scene because of this.  It is important to get treated right away to recover from your injuries and to document any related injuries.  If you have any concerns about your health, it is better to be safe than sorry and you should be checked out by a medical professional.
The most important thing to do after a truck accident is to contact a qualified truck accident attorney.
Truck companies specifically hire attorneys to go to the accident scene to investigate so that the evidence they obtain cannot be used in a court of law because of the attorney-client privilege. This puts you at a great disadvantage and leads to evidence that "goes missing" or is never produced.
Contact an attorney who knows how truck companies operate
To fight this and secure evidence to win your case, you need to an attorney who deals with truck accident investigations and who can guide you through every step of the process to recover for your truck accident case. Call Welcenbach Law Offices right away. We have 5 decades of experience getting truck accident victims the compensation they deserve. We will fight for you!