Milwaukee Juul Lawsuit Attorney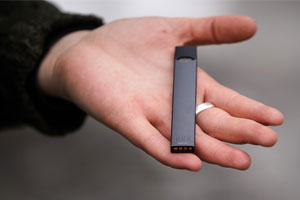 According to a lawsuit filed late last month, the makers of a popular vaping device, Juul, led at least three Wisconsin residents to suffer severe health consequences. All three plaintiffs claim they started vaping as teens, and they also allege that Juul's manufacturer engaged in deceptive advertising, a new lawsuit alleges. Our Milwaukee Juul lawsuit attorney takes these cases very seriously as the vaping industry is on the rise and more regulations are being put in place
A Juul is an e-cigarette that looks much like a flash drive. It is not the only vaping device these days, but it is the most popular and holds the largest market share. The device vaporizes a liquid containing nicotine that comes in a variety of flavors, including mints, fruits or even chocolate.
Vaping Lawsuits Multiplying as Health Concerns Rise
The federal lawsuit was filed by Wisconsin lawyers in the U.S. Eastern District Court of Wisconsin back on Sept. 20, 2019. The complaint accuses Juul and its partial owner Altria of aggressively targeting young people with a "false and deceptive marketing campaign" to sell electronic cigarettes as completely safe while failing to acknowledge that the nicotine in the e-cigarettes is addictive and without acknowledging that vaping can be dangerous to users' health. They also allege that the marketing campaign was exclusively aimed at teens.
Joining the lawsuit filed in Wisconsin where the states of Illinois, Florida, New Jersey, and Washington on behalf of more than a dozen individuals who became addicted to JUUL vaping products while they were teenagers, and who suffered major health problems. They allege that, as a result, many young people were exposed to the serious health risks those products cause in adolescents. The lawsuits come as federal officials, as well as officials from virtually every state in the union, are sounding the alarm over a large number of illnesses that have been linked to vaping. In Wisconsin alone, there have been at least 48 cases of serious illness linked to vaping, with another 13 more currently under investigation. While none have died in Wisconsin, nationally, vaping has resulted in wrongful death which led to seven fatalities so far.
A Young Generation of Vaping
As yet, no one has died in Wisconsin from an illness linked to vaping, but seven deaths have been reported nationwide. According to the Wisconsin Department of Health Services, overall, the use of e-cigarettes among teenagers has skyrocketed, up 154% between 2014 and 2018. As many as 1 in 5 middle school and high school students are vaping these days.
According to the Wisconsin lawsuit, JUUL and tobacco giant Altria (formerly Phillip Morris), which owns 34% of Juul, engaged in a false and deceptive marketing campaign
aimed directly at teens. Following lawsuits against Big Tobacco in the 1990s, marketing tobacco products to the youth population is illegal.  According to the complaint, however, JUUL and Altria took advantage of the fact that the vaping industry was virtually unregulated until quite recently, in order to conduct a huge social media campaign directed towards teenagers around the country starting in 2015. As a result, the lawsuit alleged, JUUL and Altria's campaign to promote and sell a highly addictive product to the millions of teens who bought that product thinking it was safe, fun, and appropriate for recreational use by young people. Our Milwaukee Juul Lawsuit Attorneys have found that vaping has addicted and injured young people all over the country, according to the lawsuit.
The lawsuit makes clear that plaintiffs feel it was absolutely unacceptable for Juul and Altria to market to teens and that, by their actions, both companies have undone decades of work to combat youth addiction to nicotine and they should be held accountable. The plaintiffs contend that they were convinced by JUUL's massive marketing that they could use the product safely while they were teens, which left them addicted to the extremely high doses of nicotine contained in their products.
Teenagers Report Cases Of Pulmonary Disease From Vaping
In a statement released earlier in September, Juul asserted that its products are meant as a less dangerous alternative for adults who already smoke. In that statement, the company also asserted that it had never marketed to youth and do not want any "non-nicotine users to try our products," the company said.
Throughout the summer, before they filed suit, the Wisconsin Department of Health Services (WDHS) and other agencies, including the Illinois Department of Public Health
(IDPH), received multiple reports of pulmonary disease in teenagers who had used vaping products. They joined dozens of other states in an investigation of the problems related to vaping. At least 25 states reported the same problems. Not to be outdone, officials with the Centers for Disease Control and Prevention (CDC) said they were in the process of coordinating a public health response in multiple states.
Several deaths and potentially hundreds of illnesses have thus far been tied to e-cigarettes, which allow users to inhale nicotine vapor, often flavored, without smoking, have been reported by U.S. health agencies. Numerous lawsuits have been filed so far on behalf of young consumers against e-cigarette maker Juul Labs Inc. and others, and many more are expected as vaping manufacturers come under increased scrutiny. Contact our Milwaukee Juul Lawsuit Attorney right away if you have signs of a serious health issue in relation to e-cigarettes.
Here is a summary of the state of vaping litigation playing out all over the United States:
Most of the plaintiffs in vaping lawsuits allege that users became addicted to Juul, but at least two lawsuits go much farther. In a lawsuit filed in California state court, a Connecticut man alleges that he suffered a massive, debilitating stroke as a result of Juul use, while the parents of a teenage girl allege in a proposed class action in Florida federal court that their daughter has suffered seizures linked to the device.
Young adult Juul users and the parents of teenage users have filed dozens of lawsuits over vaping-related injuries in courts nationwide, including both individual lawsuits and class actions. The lawsuits target Juul, which markets a nicotine-vaping device and controls about 75% of the e-cigarette market. Some have also named Marlboro maker Altria Group Inc, which has a minority stake in Juul, as a defendant.
One set of legal claims in many Juul/vaping cases focuses on fraudulent marketing. Many of these claims accuse Juul of claiming its e-cigarettes are meant to help adults stop smoking cigarettes, while they were marketing them to minors and young adults who have never used nicotine. They also say Juul has repeatedly claimed that its products are a safe alternative to cigarettes, when in fact they can deliver higher doses of nicotine.
Another set of claims focuses on product liability, alleging that Juul's products are defectively designed because they are inherently dangerous and that Juul failed to warn about the danger or both.
Altria has said that the conduct alleged in the lawsuits occurred before it acquired its financial stake in Juul. "Our minority stake in Juul provides no basis for liability against Altria," the company said in a statement.
North Carolina Attorney General Josh Stein in May sued Juul and has asked a state court to limit the flavors of Juul e-cigarettes sold in North Carolina.
Other state attorneys general, along with the U.S. Federal Trade Commission, are investigating Juul's marketing practices.
At least one complaint has stated point blank that Juul has not been approved as a smoking therapy tool and failed to inform users that Juul has not been found to be safe and effective by FDA for smoking cessation.
Many of the lawsuits filed in federal court will likely be consolidated in so-called multidistrict litigation before a federal judge. This is known widely as a class- action. Juul has already filed a motion to consolidate the lawsuits in the Northern District of California, which includes San Francisco. A panel of federal judges in Los Angeles heard arguments last week. Separately, a motion has been filed in a Los Angeles state court to consolidate the California state court cases there.
Our Milwaukee, Wisconsin, Juul Lawsuit Attorneys Can Help You!
According to complaints in many recent cases, as well as the information that is proliferating as a result of the backlash against vaping that seems to be increasing in intensity recently. That is for good reason, based on the observed health effects that have been linked to vaping. Vaping users are at greater risk of experiencing seizures, which is also a known symptom of nicotine poisoning. Since 2010, the Food and Drug Administration (FDA) has received about 127 reports of seizures linked to vaping, and in April of this year, the agency issued a warning about the potential correlation between vaping and seizures (convulsions). There exists a lack of research and information on the health risks of vaping, an Illinois patient was reportedly the first to die of a lung illness that was associated with vaping. According to health experts, a lot more research is necessary, in order to understand the health implications of vaping, before future users face a similar fate.
With vaping on the rise, it is concerning which audience is being targeted by these companies. The attorneys at Welcenbach Law Offices have the experience to help you if you have been involved in the use of vaping Juul products and experienced unusual side effects. Contact us today and receive the legal aid you rightfully deserve.