Milwaukee Bicycle Accident Attorney
Bicycle Accident Attorney Representing Milwaukee, WI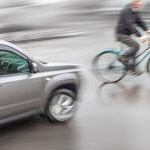 Our Milwaukee, Wisconsin attorneys have successfully handled dozens of bicycle and pedestrian accidents over the past 45 years. Bicycle accidents can have serious consequences, which can lead to expensive medical bills and the destruction of property that you deserve compensation for.
Drivers of automobiles in Wisconsin must act responsibly when it comes to cyclists. They owe several duties to cyclists including the duty to lookout, maintain appropriate speed, and to yield the right away.
Often, drivers feel the cyclists should not be on the road and ignore these duties. Other times, drivers may simply be negligent in failing to maintain their duties. When a driver's negligence causes injury to a cyclist, often times it may be serious or even fatal.
The Milwaukee area personal injury attorneys at Welcenbach Law Offices are avid bicyclists and have competed in numerous bike races and triathlons throughout the state of Wisconsin.  Our bicycling experience helps us identify with you and to represent you in your lawsuit.  We understand how vulnerable a bicyclist can be when car drivers fail to follow the rules of the road.  Our Milwaukee car accident attorneys have seen many car accidents that involve bicyclists. We have represented bicyclists for injuries ranging from simple road rash and broken wrists to injuries that resulted in wrongful death.
Call Today For Experienced Representation
No matter how complex your legal dilemma appears, the Milwaukee personal injury attorneys of Welcenbach Law Offices, S.C. can help. Contact us by e-mail or call us at (414) 774-7330 to schedule a free initial consultation. We offer convenient appointments at our law office, which is centrally located near Mayfair Mall.  We handle all cases throughout Wisconsin and work with other attorneys Nationwide.